Education
We strive to make education accessible for students in remote communities.
Supporting and Enhancing Education
and Learning During COVID-19
Capacity Building, Infrastructure,
and Technological Support
Supporting and Enhancing Education and Learning During COVID-19
D-LEAD: Digital Learning Excellence and Development
Our D-LEAD initiative strives to bridge the digital divide by providing children from marginalised families access to learning opportunities during the lockdown. The initiative is in line with the government's new National Education Policy emphasizing the digitisation of education.
As part of this project, we provide tablets (pre-loaded with e-learning content in regional languages for classes 9 and 10, structured to the state board curriculum) to children from government and government-aided schools.
We distributed 3500+ tablets across 67 schools in Patalganga, Kurkumbh, Indore, Bengaluru, Goa, Baddi, and Sikkim with a focus on children with accessibility issues of hardware and digital content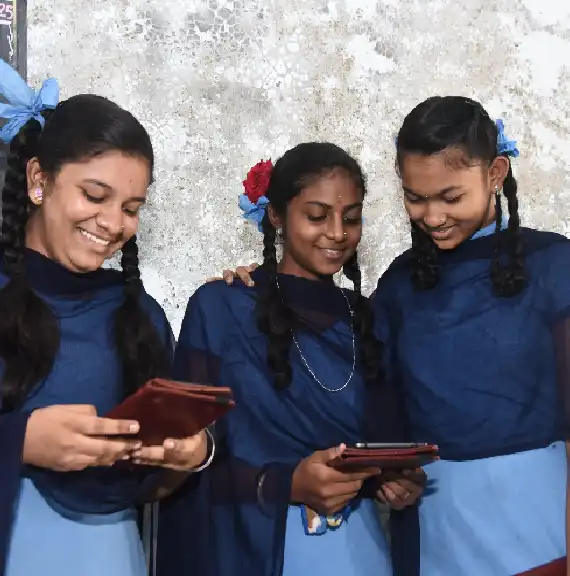 WhatsApp Based Learning
We are supporting those who have a partnership with the Himachal Pradesh State Government to bring quality assignment-based digital learning to students in Solan district
The platform has been designed to supplement learning for students studying from home. The content on the platform is age and grade-appropriate and customised to the curriculum. It also undertakes data assessment and insights to both teachers and administrators for enhanced learning. This also helps to continuously improve the learning pedagogy.
32,000+ students from Grade 1st to 10th are connected to learning during school closures.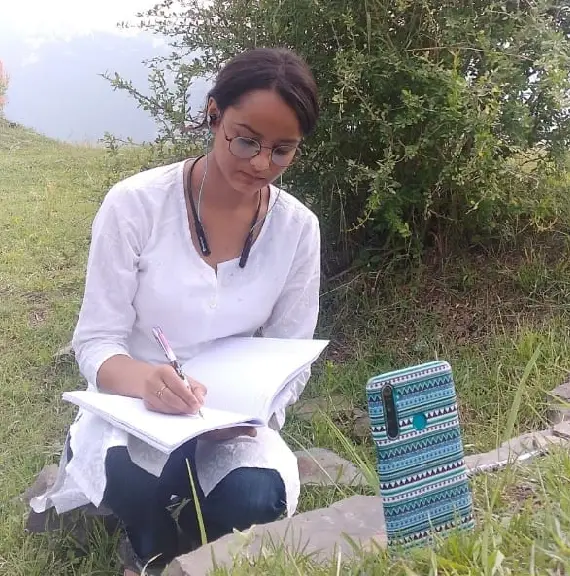 Mobile Science Labs
We promote interest in science among students by supporting a unique hands-on and interactive learning programme called Mobile Science Labs (MSL). Equipped with over 100 science models, each van goes to remote schools, where students have no access to quality learning.
Reached out to students through 3,44,000 virtual interactions in 115 schools across 100 villages and 8 districts in 2020-21
Continuing to learn in Covid-19 times
Our 8 MSLs across states continue to empower and educate children from schools in remote communities through digital platforms such as video calls and live online sessions.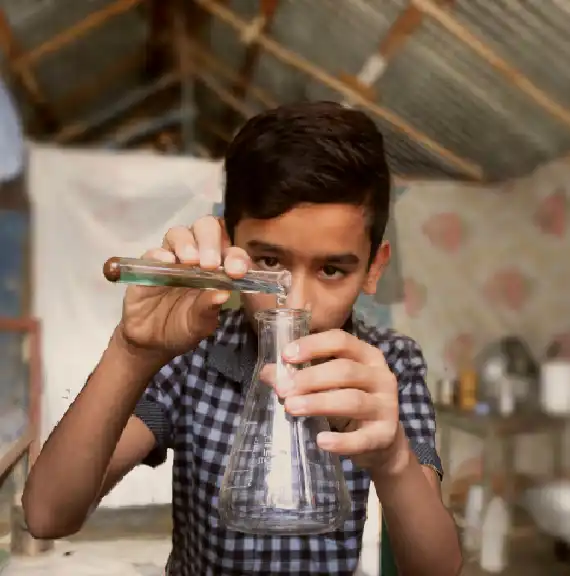 Taking Libraries into Communities
Through our Library-In-Schools initiative in Goa, teachers put together BOOK BOXES consisting of books from libraries which were then safely distributed to children at their homes. This coupled with virtual storytelling sessions ensured children continued to indulge in the joy of reading.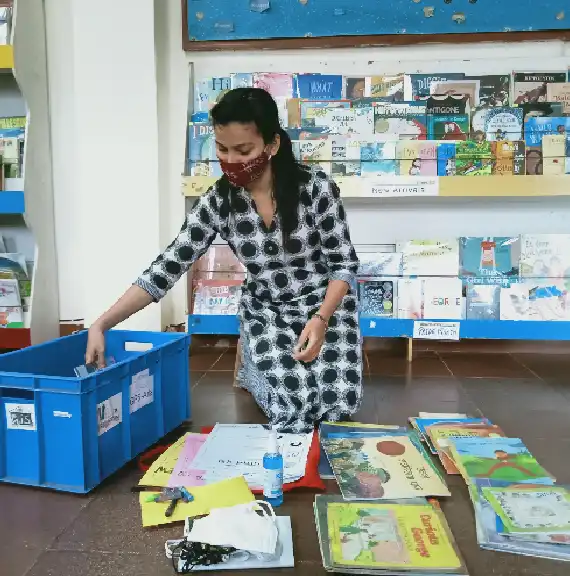 Early Childhood Development Centres (ECDs): Ajuga
We support Ajuga in South Africa for children in the age group of 3-6 years whose parents are mostly migrant labourers.
The first 1000 days of a child's life – the time during which their ability to learn, grow, develop and thrive – can be profoundly affected by the quality of the care, nutrition, and education they receive. Ajuga provides a high-quality infrastructure to create an environment that addresses these needs. Through partnerships with non-profit organisations, the necessary training and support for teaching staff ensure that children are well developed in social, cognitive, and motor skills.
426 children benefitted from Ajuga initiative in 2020-21.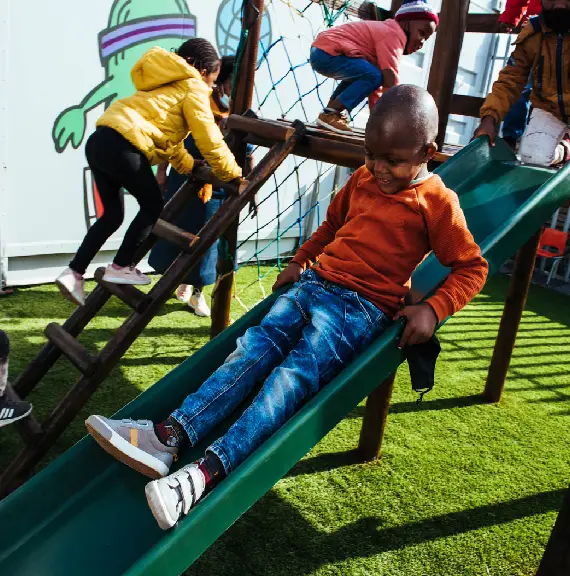 Balvatika
As children and teachers could not leave their homes in the lockdown, our Balvatika (preschool) classroom-based model was modified and adapted to a PEER-LED model.
Empowering Children during COVID-19 Times:
11 peer leaders (older children from the community in the age groups of 12-14 years) were identified, trained, and assigned 10 children from their neighbourhood.
Sessions were conducted in courtyards or open spaces around slum settlements to follow COVID-19 safety protocols.
Reached out to 150+ children during April 2020 – June 2021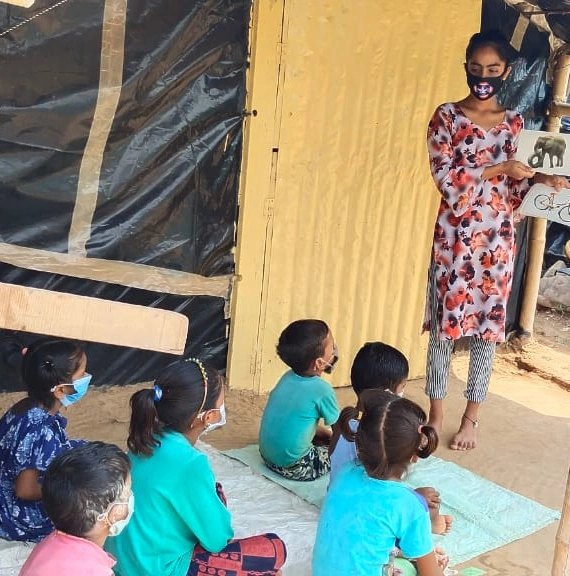 Capacity Building, Infrastructure, and Technological Support
Technological Support for Upgradation of Aanganwadis
Anganwadis are centres set up by the government as part of the Integrated Child Development Scheme (ICDS) to cater to the needs of nutrition and education in children
We upskilled teachers by running capacity-building programmes to help them integrate technology-based learning into their sessions. This includes interactive whiteboards and tablets, books, educational videos, engaging games, and worksheets.
We have supported the upgradation of 75 Anganwadis and capacity-building of teachers across Goa through technological support.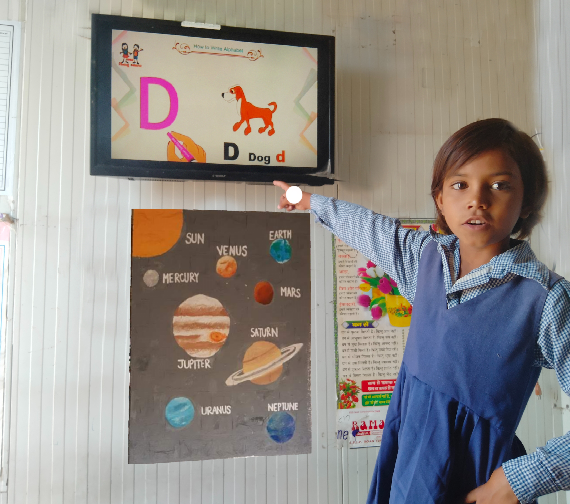 Partnering with Communities to Continue Education
In Kallibilod village, Indore district, Madhya Pradesh, we have supported the construction of two Anganwadis under 'PROJECT BHAVAN'. The project exemplifies collaborative community participation at its best – the land was donated by the Panchayat and with the support from local administration, communities, NGO, and Cipla Foundation, the Anganwadi has become a reality for children in the village.
1000+ families and 250+ children benefitted from this project.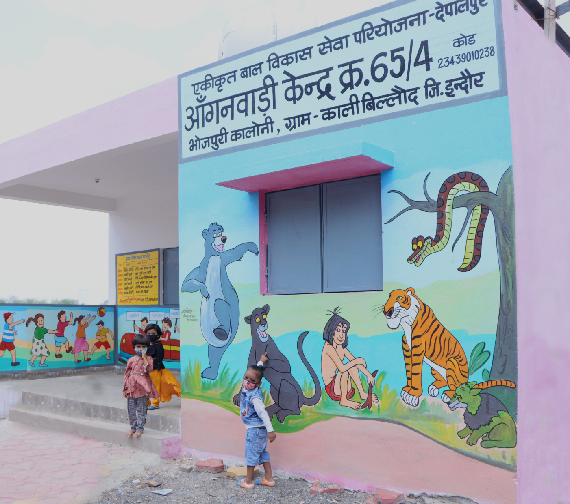 Merit Awards
Felicitating meritorious students is a long-standing tradition at Cipla. We provide financial support to students from government and government-aided schools, who have secured the top three positions in state-level board exams.
Reached out to 287 students in the year 2020-21